This is the fourth in a series of excerpts from The Greater Gulf: Essays on the Environmental History of the Gulf of St. Lawrence, recently published by McGill-Queen's University Press.
The fog-and-ice-bound Gulf of St. Lawrence, long frequented by New England fishermen, offered unique attractions to American artists and writers who werefascinated as well as repulsed by the sublime landscapes that fed their own sense of national distinctiveness. Paradoxically, it was the most remote part of the Gulf of St Lawrence, namely the Labrador coast, that was the first to be the subject of detailed travel narratives by American writers, two of whom described voyages organized by artists in search of icebergs. The second of those artists was William Bradford, a member of the Hudson River school, and he engaged a photographer as well as a writer to produce records of the voyage that could be used to publicize the monumental painting that he planned to produce. William H. Pierce's action-filled photograph, "Labrador Fishing Station," represents an interesting counterpoint to the Labrador coast as described by the Reverend David Atwood Wasson at the chartered schooner's first landfall, which was at Sleupe Harbour on 14 June 1864. The account appeared in Atlantic Monthly in May 1865, and is summarized in my chapter as follows:
Wasson described the scene as "bleak, bare, and hard," with "not a tree, not a shrub, not a grass-blade" to be seen. Resorting repeatedly to the word "grey" to describe the sky, the sea, the surrounding islands, and the remaining snow, Wasson wrote that one felt "as if all the ruddy and verdurous juices had died in the veins of the world, … that Existence was dead, and that we stood looking on its corpse, which even in death could never decay." In short, the Labrador coastline offered a view of the earth at the dawn of time, "that period in Nature when her powers were all Titanic, untamed, – playing their wild game, with hills for toss-coppers and seas for soap-bubbles."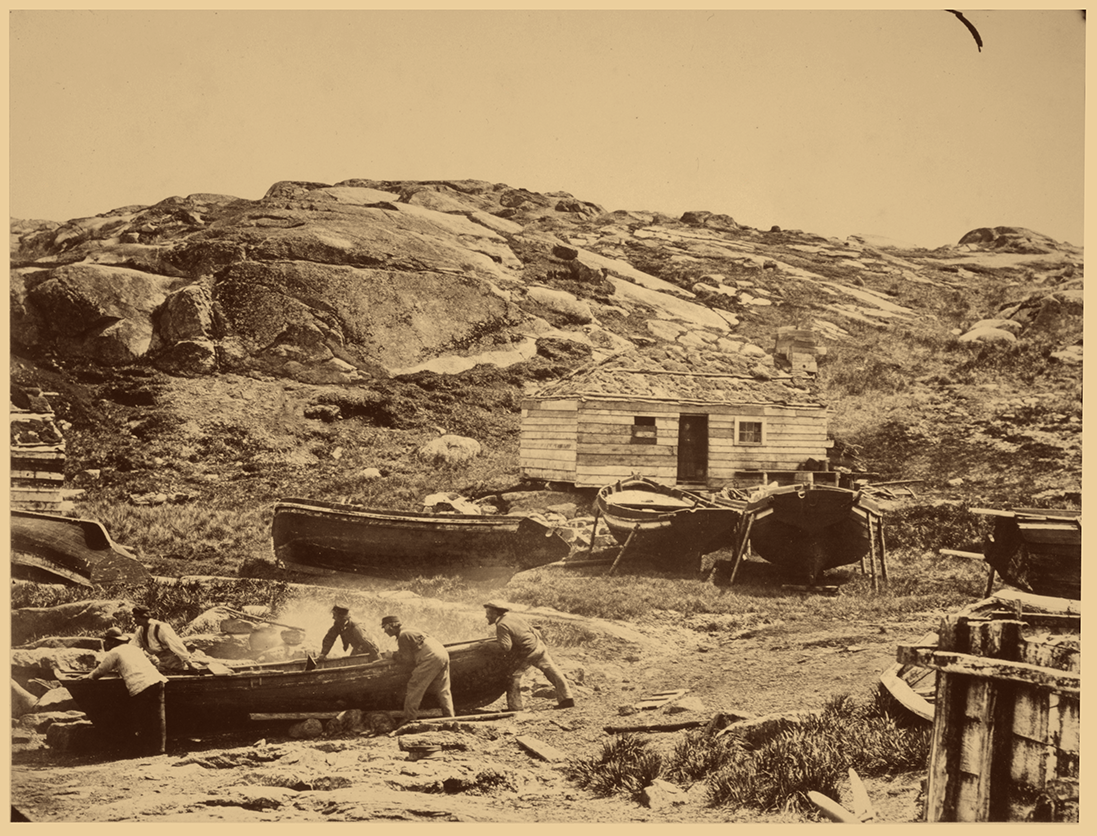 "Labrador Fishing Station," albumen print by William H. Pierce (1864). In Photographs of Arctic Life. Source: Library of Congress, Prints and Photographs Division, LC-USZ62-10281.
---
The following two tabs change content below.
Jack Little
Jack Little is a Professor Emeritus in the Simon Fraser University History Department. He currently lives on Salt Spring Island, and his two most recent books are At the Wilderness Edge: The Rise of the Antidevelopment Movement on Canada's West Coast (McGill-Queen's University Press, 2019), and Fashioning the Canadian Landscape: Essays on Travel Writing, Tourism and National Identity in the Pre-Automobile Era (University of Toronto Press, 2018).
Latest posts by Jack Little (see all)